Installing Your New Themes
Do you know how to install your new PPC 2002 theme onto your handheld?

1. Place the .tsk files in your My Documents folder or your Windows folder on your PPC

2. Open your PPC Start Menu.

3. Tap on Settings.

4. Tap on Today.

You should see the .tsk files you've downloaded - select the one you want displayed on your handheld device.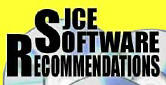 Creating Your Own Themes
If you'd like to create your own themes, you can download the free Microsoft Theme Generator (only works on PCs running English Win2k and WinXP) or use another program such as BVRP's Theme Generator (offered in English, French and German).
Image sizes:
Today screen: 240 x 268
Start menu: 158 x 290
_________
Legibility
All of our themes are checked for legibility. If a picture doesn't work, we don't use it or we manipulate it so that it does work. If you find that one of our themes is difficult to read or needs adjustment, please let us know - .
_____________
Friends of JCE:
If you're interested in becoming a link partner, please write: