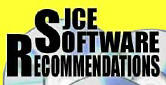 All files are virus checked! Download and install at your own risk!
Older Firmware is available upon request -
NEWS !
Jumping Cholla Enterprises, Inc ( JCE ) has setup a news server dedicated to the Creative Labs MP3-Player series. The new news server is located at :
news.jumpingcholla.com
and can be accessed via any popular news reader as well as text based readers. Full access should be available from 1-26-2005 on. Hope to see you there.
ZEN Touch Solutions
Firmware / Drivers

Solutions & Experiences
Other Software
ZEN Touch Firmware

v. 1.01.03

Download here

ZEN Touch Battery

If you ever need to replace the "non-replaceable" battery on your ZEN Touch, you can order a new one here for only $39. This battery comes with all the instructions and tools (one Philips and one Flat) needed to replace the ZEN Touch battery.

Organizing Your MP3s

JCE has put together instructions on how to organize your MP3s. This is Tom's preferred method of organizing and checking your MP3s. Click here to download the 124k Word document.

ZEN Touch Mini Setup

This file contains a customized setup and the drivers for the ZEN Touch. For use by people who are using 3rd party software to access & operate the ZEN Touch. NOTE: These drivers and install are not supported by Creative Labs.

Download the setup here

ZEN Touch Playback Time

Tests are done with different bit rates :

128 CBR = 26 hours 27 minutes

192 CBR = 25 hours 13 minutes

192 VBR = 24 hours 45 minutes

All tests are done with continuous playback enabled, custom EQ, volume set to 20 and no user interaction or any use of the backlight during the testing time.

MP3-Library 2.31

Transfer function does NOT work with NJB3 or ZEN models, but can be used for organizing and tagging your MP3's.

ZEN Touch XP Drivers

These are the english drivers for the ZEN Touch from the original ZEN Touch install CD.

Download the drivers here

ZEN Touch Case Setup

Since I travel on occasions and also go camping, I like to have all my stuff together in one case. Here are a few pictures of my ZEN Touch Case Setup:

Case (empty)

Case
(Loaded w/JBL onTour Speakers)

Case
(Loaded w/Creative Labs Travel Sound Speakers)

Case (Loaded & Description)

Creative Labs Jukebox Drivers

v.1.26.02

Download here
Back to top or click here to go to the NJB1 page.
Case


Website last updated Monday May 16, 2005